Bank of Portraits / Shabliy Anastasia and Ksenia
Shabliy Anastasia and Ksenia
Before the World War II Anastasia Shabliy lived in the city of Kryvyi Rih together with her children. According to the 1939 population census, 12,745 Jews lived in Kryvyi Rih. Until the beginning of the German-Soviet war, the Jewish people mostly worked in administration of the large mining enterprises, retailing, the engineering industries.
On August 14, 1941 the German army captured the city. The normal life of the Jews ended. The local administration issued the decree on confiscation money and jewels of the Jewish people and property of those Jews who managed to escape. Among the Jewish people who stayed in the city, there was Olena Filkenstein. The Nazis arrested her family and shot it. However, Olena managed to escape and to hide in the abandoned house. Then she came to her father's friend Anastasia Shabliy.
The 19-year-old Olena, crying and broken by grief, told Anastasia about her family's tragedy. Anastasia checked with her elder daughter Ksenia and sheltered Olena in their house.
It was strictly forbidden to help the Jews. Nevertheless, Anastasia decided to rescue the poor girl. The Shabliy family took care of the girl who helped them with housekeeping. Each time when somebody knocked on the door, Olena had to hide in the storeroom. At night she shared a bed with Ksenia, Anastasia's daughter.
To calm the girl down, Anastasia Shabliy asked the local priest to baptize Olena. He refused. Soon after that, the rumours spread that the Shabliy family sheltered the Jewish girl. In order not to endanger herself and her rescuers, Olena had to leave their house. Ksenia managed to get the false ID for Olena with the Ukrainian name. She got if from one of the students she taught.
Under this false name, Olena could travel in Ukraine. In 1943 she passed the frontline and entered the territory liberated from the Nazis. After the war Olena returned to Kryvyi Rih and immediately visited her rescuers. They stayed in touch even after Olena repatriated to Israel in the 1990s.
On March 29, 1995 the Yad Vashem recognized Anastasia and Ksenia Shabliy as the Righteous Among the Nations.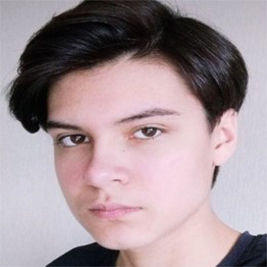 Victoria Borozna
Kyiv
Taras Shevchenko National University of Kyiv
fingerprintArtefacts

theatersVideo

subjectLibrary

commentComments