Bank of Portraits / Shulezhko Oleksandra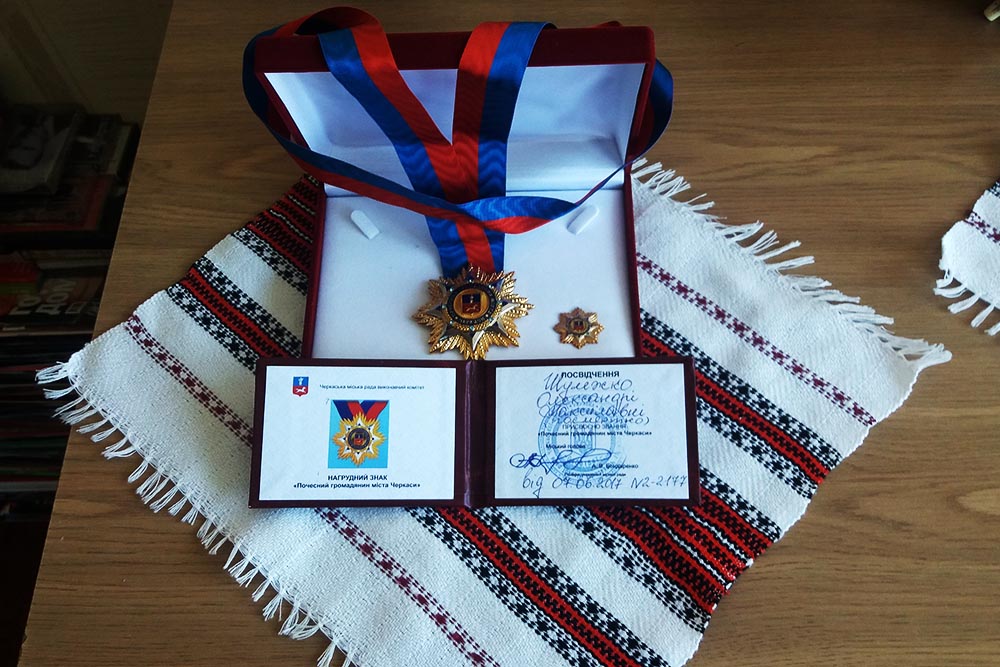 Shulezhko Oleksandra
Oleksandra Maksymivna Shulezhko was born in a well-to-do peasant family of the Sheludkivs in Mykhailivka village, Drabivskyi vice-county, Cherkasy region in 1903. The girl did well in the gymnasium but Bolshevik upheaval destroyed her further life plans. Since that time, she had lived in a dispossessed kulak family, barely making two ends meet.
At the age of eighteen, Oleksandra was married to Fedir Vasyliovych Shulezko. He hold a degree in law, went into the ministry of Autocephalous orthodox church of Ukraine, and served to parish in Lesky village, Cherkasy vice-county, Cherkasy region. She shared and support her husband's religious beliefs, became his reliable friend. Four children were born in the family (one of theirs infant son died).
Bolshevik-orchestrated transition to the radical war on religion in the late 1920s resulted in the liquidation of the Autocephalous orthodox church of Ukraine. They sent father Fedir Shulezhko to one of the Gulag labor camps and prisons.
At the age of thirty-four, pregnant Oleksandra became a homeless mother with her son Vadym and daughter Alla on Cherkasy city streets. She had done her best to survive, was ready for any kind of job, but the stigma of the "wife of ideological backslider" blocked her from a decent life.
Luckily, a friend of hers, who was chief of kindergarten number four in Cherkasy city took her on a worker position. Her newborn daughter Larysa went to the same kindergarten. By summer 1941, Oleksandra worked there as a tutor after a specialized course successful graduation.
No education institution was functioning in Cherkasy City upon Nazi occupation. Homeless people crowed the city streets. There were many youngsters among them.
«…I would like to do something for kids in particular. I went to the city hall and asked the Head to help me to open up a kindergarten. He did not support the kindergarten idea but authorized an orphanage. He was sick and tired of street children by all accounts. There was no help of him but authorization only…» Personal Recollections of O.Shulezhko.
With irresistible aspiration and energy to give help, Oleksandra made all necessary arrangements through the City Hall for opening an orphanage in the building of former kindergarten number four, stuffed it with reliable personnel on her own.
«…then the children were brought to the orphanage. What we were going to do?! I proposed to my former colleague and cook to join the project. Two of them agreed, although they were aware that there would be no salary but irreplaceable, hard work only…» Personal Recollections of O.Shulezhko.
The number of children steadies multiplied in the Cherkasy orphanage. There were 10 of them from the very beginning, and 102 in Autumn 1942. Somewhere around 25 of them were Jewish children.
There were different ways for kids to get into the orphanage. Oleksandra found one of them next to its killed Mather on street, after aerial bombardment. She picked up fourteen years old Volodia Pinkusovich in local prison: he and his parents hid under Russian names but were disclosed. Eleven years old Arleen Baranovsky was placed to the orphanage after his grandmother had been killed. Several other Jewish orphans lost their family members – Olena Burkovska, Volodia Khram, brothers Arkadiy and Volodia Chizhyk, Kostia Nadtochia.
«My mother, my grandfather, my grandmother and my uncle were brought to Cherkasy prison from Tubiltsi village, Kyiv region in 1942. They put my mother, who hold me on her hands, my grandfather, my grandmother and my uncle up against the wall to kill. A woman ran up to me and picked me up. Shots fired. All my relatives were killed. Since then, Oleksandra Shulezhko, who saved my life and brought me to the orphanage, became my mother…» Personal Recollections of V.Pinkusovich.
On the orphanage reception, Oleksandra Maksymivna registered Jewish children as Ukrainian, Greek, and Tatar ones depending on their hair and eye color. She was fully aware of deathful consequences for herself and her relatives for Jewish people concealment. Nevertheless, thanks to her courage, resourcefulness, and German language skills she was successful enough to mislead occupation authorities and local police.
Almost two and a half years of leaving in the occupied city could be comparable for her with walking on a giant razor's edge. Jewish children were hidden in so-called «sick-room» whenever the local police for inspection visited the orphanage. Policemen were told that some of the kids are isolated from infectious diseases. Usually, nobody wanted to check it.
Rudniev, Cherkasy police chief was particularly alarmed by the orphanage. Then one day he ordered to bring a few boys who seemed to him like Jewish to garrison headquarters. To protect children and co-workers from dangerous interrogation, Oleksandra Shulezhko was brave enough to appeal directly to Cherkasy region Gebietskommissar. They talked face to face.
The Directress succeeded to convince the Nazi chief that there was no reason to believe in local police suspicions while the orphanage personnel together with German authorities were saving orphan children from begging, starvation and freezing. The woman stressed that exhausting police raids brought the New Nazi authorities into discredit in front of the foster children. It emerged that Gebietskommissar was an orphan child too. Finally, he stated that he would take care of the orphanage and prohibited to check the orphanage without his authorization.
Gebietskommissar revealed his desire to greet the orphanage children and provide them with complimentary gifts upon their performance for the occasion of the 1943-year celebration. Therefore, nobody could hide. That is why Directress and tutors decided to make the orphanage children up to unrecognizably. They used fake mustaches and eyebrows, masks, and puppet costumes. One of the Jewish boys successfully performed Georgian Lezginka dance that brought a round of the guest's applause.
There were other risks to be disclosed by any wrong word or reckless behavior of the inmates. However, such a thing had never happened. Internal conditions in the orphanage were thorough, sharp, and as detailed as a rocket launch. Every child had its own role during a typical day. They had planted vegetables in the small garden, fed chicken, two goats, and several pigs. Older inmates were meant to eat working in Schwartz cannery twice a week. All inmates pursued a normal education program, attended catch-up classes, and interacted with the workshops. Oleksandra Shulezhko arranged demo site visits to the local temple on Church Feasts. She always practices equal treatment of all children. In that context, there was no difference between her daughters and other inmates at all.
«The main task for the orphanage personnel was to safe children. There was not only solution to feed and clothe their children. You had to bring them together and make them aware of leaving in a bad time and equal conditions as orphans and brothers who all get along amicably co-working and studying. They hided inmates while a stranger visited the orphanage. Policemen came one day to pick up a Jewish boy. Children and adult confirmed that a Jewish boy used to be in the orphanage but he ran off…» Personal Recollections of O.Shulezhko.
Gebietskommissar ordered to evacuate the orphanage to the West while the Red Army was approaching the City late in 1943. He issued certificates of Germany descent (Volksdeutche) for the kids to move them to Germany. However, Oleksandra succeeded in placing some of them with families in the nearest villages. Oleksandra and the rest of the kids went to Vinnitsa region only. They were able to take advantage of the occupying forces' confusion and hide in Sobolivka village. Oleksandra and 20 children went back to Cherkasy city in the Spring of 1944.
«They were met by some official representative of local authorities at train station. He ordered Oleksandra to leave the kids. She was not allowed even to say goodbye to them. She insisted that those were her kids, whom she saved. The official replied: "Nobody authorized you"» Recollections of O.Shulezhko's daughter, Larysa. Soviet regime accused the woman of "collaboration with occupying forces", without considering her humanitarian and heroic deeds. The orphanage directress was suspended and not allowed to communicate with children. They sent inmates to other Soviet orphanages, some of them were adopted.
Oleksandra Shulezhko was banned from further exercising her profession as a tutor. Cherkasy city Health Centre receptionist was the only position she was allowed to work on.
Oleksandra Maksymivna desperately was looking for her son Vadym. He was mobilized by the Red Army in 1941. The was no message from him in the next more than ten years. In Summer 1955 Oleksandra was informed that her 19 years old son Vadym was killed in action on January 7, 1942. He was among the other 3000 casualties in 2-nd Army offensive operations on the Volkhov River in the Leningrad region just for the first half an hour of the combat. That was the first and the last fight for Vadym Shulezhko.
To put food on the table for her daughters Oleksandra Maksymivna became a blood donor. For more than 23 years (usually twice a year), she donated 150 liters of blood. Twice she was recognized as «Honorary blood donor of the Soviet Union».
Until 1968 Shulezhko had lived and been treated as a traitor who collaborated with Nazi. At long last, some witnesses proved that orphanage personnel and its Head had given support to Cherkasy partisan group: delivering information, food, and medicine. Sometimes they hid partisans and made bandages from off-the-shelf items. Oleksandra Maksymivna was honored by a partisan membership card, and in 1985 was decorated with the Order of Patriotic war (I class).
Oleksandra Shulezhko lived out the rest of her life with her daughter in Kyiv. She received letters from her grateful orphanage inmates. Arleen Baranovsky and Volodia Pinkusovich were among those, who called her «Mather» and communicated with her to the last day of her life. They have done their best to honor of her heroic deeds.
The day before Oleksandra Maksymivna died, she got to know, that «Commemoration of the Nazi victims in Ukraine» Foundation issued a Diploma on her name for the Recognition of Righteous Title.
«In the morning I showed the Diploma to my mother and read the words about her heroic deeds that would never be forgotten. She listened to me and said "Give me a mirror". Then she looked at it and whispered "So I'm not the last person…"» Recollections of O.Shulezhko's daughter, Larysa.
Oleksandra Maksymivna died on February 25, 1994, was buried in Lisove Cemetery, Kyiv City.
Yad Vashem nominated Oleksandra Maksymivna for the title of «Righteous Among the Nations» on June 11, 1996 (post-mortem). Her name was placed on the Commemoration wall of Righteous Among the Nations Alley in Yad Vashem. On August 5, 2013, Cherkasy City authorities placed a commemorative plaque with her name on the wall of building number 200, Khreshchatyk street, Cherkasy City. R.Zagorin and T.Shapiro published the biography brochure «In memory of famous compatriot» – Cherkasy City: «Vertikal», 48 pages, 2008. The documentary film «Oleksandra Shulezhko. The fate of Righteous» was produced in 2015. In June 2017 Oleksandra Maksymivna was awarded the «Honorary Cherkasy City Citizen Title».
Svitlana Datsenko
Kyiv
National museum of the History of Ukraine in the Second World War
fingerprintArtefacts

theatersVideo

subjectLibrary

commentComments